News
Posted by The Critter Wranglers on
Our first virtual show. This is one of our very favorite live events (in one of our favorite venues) so we were very curious as to how the weekend would go. And the answer is ....quite well. We sold a nice mix of product, and knowing the our website would be seen by a lot more people provided the impetus for some much-needed updates. Hopefully we'll be back in the cemetery next year, but this bodes well for the other virtual event (so far) that we have scheduled for next month.
Posted by The Critter Wranglers on
Well, it's been an interesting few weeks - for certain values of the word "interesting". Sterling's day job has closed until at least the end of April. Alex's job is considered essential, but since he works from home there hasn't been a lot of change. We've had three major shows cancelled (so far) and are expecting at least one or two more will be. Fortuantely, our day jobs are providing enough income to keep us afloat at the moment. We know quite a few other vendors that are not as fortunate, however.
Posted by The Critter Wranglers on
We are thrilled to be featured in an article by Ripley's Believe it or Not about last year's Oddities Market in Philadelphia! Article link We'll be returning to the Market this year on March 28, at their new location in the 2300 Arena on Swanson street in Philadelphia. Event link Hope to see you there!
Posted by The Critter Wranglers on
Our last show of the season, and a very nice way to wrap up the year. This was a last-minute addition to our schedule; the vendor coordinator had a space for us so we jumped at the chance to vend at one of our favorite locations. It was a little hectic - in the space of 36 hours we drove to Manheim, unloaded the van, carried everything up to the second story of the barn, set up, vended for five hours, spent the night at the hotel across the street, vended again the next day, broke down, carried everything back...
Posted by The Critter Wranglers on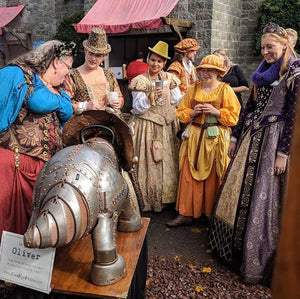 Closing weekend at Faire is always bittersweet. The shire is at its most lovely this time of year, and we know we won't see some of our friends until next summer. Still, whether or not we are vending we wouldn't miss it for anything. In previous years, we'd always had our booth somewhere along the top path leading to Swashbuckler Grove. This year, we decided to try a new location and set up near the New World Fountain, behind the Globe Theater. Our friend Gus set up his cart next to us. It turned out to be a good choice....
---