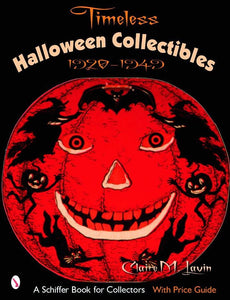 Timeless Halloween Collectibles 1920-1949
The definitive reference guide for vintage Halloween collectors looking for accurate information on each piece, as well as for designers looking for the best in Halloween graphics.
The collectibles showcased span what some people consider the "Golden Years" of Halloween production—1920 through 1949. You'll be charmed by the artwork of the many invitations shown and wonder how a host ever survived without the myriad party helps. Dozens of die cut items have graphics so vivid they almost jump from the pages! See the artist's creativity at its best when you pore over the party games and hats. And what Halloween would be complete without the Jack-O'-Lantern?
The stock number, initial release year, and object's proper name, are taken directly from holiday sales catalogs and interspersed with the author's comments. Over 350 photographs include some never-before-seen items. A value guide accompanies each entry.
Softcover, 8½" x 11", color, 160 pages.