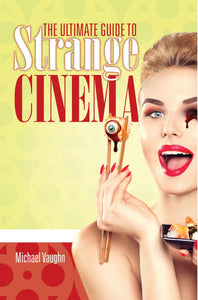 The Ultimate Guide to Strange Cinema
Not every film features man-eating zombie sushi. But for those searching for just that and more strange things in their viewing queue, this film guide is for you.
Organized by genre, including comedy, horror, action, drama, fantasy, and sci-fi, this title offers 300 reviews of genre films from all over the world, 160+ photos, and exclusive interviews and quotes from the people behind some of the most offbeat films ever made.
Alongside this curated list of viewing recommendations, longtime fans and new comers to strange cinema gain bits of fun and informative trivia. For example, David Caruso's film debut was Without Warning 1980, a carefree trip into the woods thwarted by killer flying alien discs. Lurking in these so-bad-they are-good-films, you will find other familiar actors like David Carradine, James Brolin, Martin Landau, and Ryan Gosling in films like Death Race 2,000 (1975), The Car (1977), The Being (1983), and Lost River (2014).
Paperback, 6"x9", color, 352 pages.