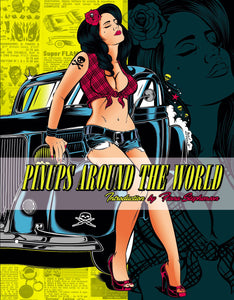 Pinups Around the World
Pinups Around the World gathers a serving of the stunning work of pinup artists across continents and through time.

With over 100 contemporary artists from the United States, Europe, Australia, Japan, and China included, this collection follows up the previous edition (Pinups: Past and Present) with even more captivating pinup art designs. The result is an unrivaled look at every different direction pinup art design has taken since the heady days of Bettie Page.

More than 200 images from the best practitioners portray the influences of the greats, such as Gil Elvgren and Olivia De Berardinis, but also show new trends, including a revival in 1980s-influenced line work in the vein of Patrick Nagel, and of biomech-influenced approaches.

Every image is accompanied by a caption detailing the artist, name of work, and major influences, making this an invaluable source of information and inspiration for all graphic artists and cartoonists in the genre.

Previously considered taboo, pinup women continue to grow in popularity in the art community. The current appeal of old pinup art is the unpretentious, often naive, and joyful whimsy that celebrates the sensuality of the women depicted. Whether they're real or imaginary, pinup women are a celebration of feminine sexuality.

The sheer breadth and span of pinup art today is amazing and every major genre is represented within!