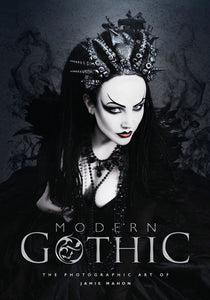 Modern Gothic
Welcome to the fantasy-made-flesh that is Jamie Mahon's imagination.
Weaving together sublime locations, superb photography, and striking models, this award-winning photographer has created true artwork of the alternative subculture. He and a clique of extraordinary creators have labored to produce images of beautiful women, expertly made up and professionally styled in fantastic surroundings.
Whether its the ethereal otherworldliness of his Gothic heroines and villainesses, the provocative postures of his fetish performers, or the adrenalin-charged action of his fantasy characters, each image leaps from its page to shock and awe you. Mahon's imagination is realized with such depth, passion, and color as to be an entire reality of its own. So come join us in this wicked world of sinful style.
Hardcover, 7" x10", color, black & white, 160 pages.