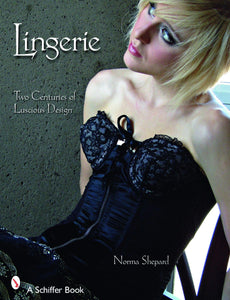 Lingerie: Two Centuries of Luscious Design
With a focus on the undergarments, rather than the models, this reference-style book allows a peek into the most personal clothing in a woman's boudoir— designed to shape, conceal, enhance, and reveal the body to create a silhouette for outerwear fashions from 1770 to 1970.
From corsets to negligees to reverse thongs, hundreds of fascinating garments are shown in over 500 color photographs that reflect ever-changing social factors, which influenced day and nighttime occasions.
The lively, well researched text explores evolving clothing styles where unmentionables came into play. The full glossary, value guide, and index assist archivists, researchers, clothing dealers, designers, and collectors who will refer to this study frequently for documented examples.
Softcover, 8½" x 11", color, 175 pages.