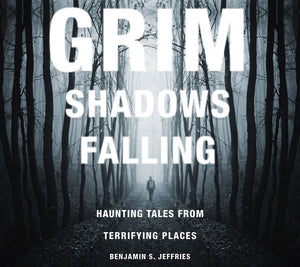 Grim Shadows Falling: Haunting Tales from Terrifying Places
Journey to 31 dark, scary, and infinitely unsettling places that are soaked with blood, death, and the horror of unspeakable tragedy.
Revel in the horror of The Villisca Ax Murder House, Lemp Mansion, Borley Rectory, and Fox Hollow Farm. Shed a tear for the desecrated dead of Cheesman Park and The Black Hope Cemetery, the lost soul of a little girl who still haunts Lake Shawnee Fun Park, and the melancholy spirits of a feuding husband and wife who found immortality in the form of a murder-suicide. Learn the devastating truths behind Black Moon Manor, Madame Delphine LaLaurie, Doris Bither (the terrifying real-life case that inspired the film The Entity), and Japan's disturbing answer to the Holocaust, the bloody Unit 731. Experience the suffering of people frequenting these places and explore tragic events that create a stain on the fabric of time, resounding for centuries and affecting generation after generation.
Visit as grim shadows fall—the nightmares will haunt you.

Softcover, 9" x 8", B & W, 192 pages.