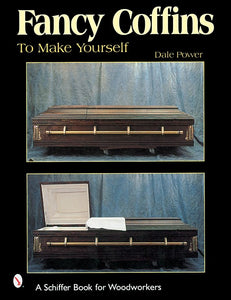 Fancy Coffins to Make Yourself
Here's the help you need for one of life's most critical undertakings -- making your own coffin.
Author and craftsman Dale Power revisits one of his most popular woodworking projects with additional embellishment, adding finery and fancy to what could easily become your final resting place. Easily, that is, since, more than 230 color photos and detailed instructions have been provided to help guide you step by step toward your own casket. This project might truly be your life's finest accomplishment. The installation of working coffin hardware, both exterior and interior, is explored and the proper application of finishes and linings are explained.
Patterns for the coffin are provided, along with two lid designs. The color photo gallery and detailed instructions will challenge the novice and inspire experienced craftsmen.
Softcover, 8½" x 11", color, 64 pages.