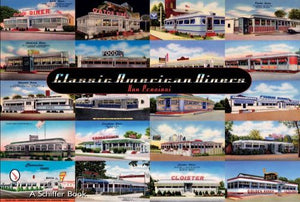 Classic American Diners: Collectible Postcards and Matchcovers
The classic diner is an icon of the American roadside. As cars were mass-produced, so were these aluminum gems, whose metal bodies and neon signs came to characterize modernity in the mid-twentieth century. From the 1920s to the 1950s, these eye-catching eateries promoted themselves on many giveaway matchcovers and postcards. Today, these highly collectible pieces of ephemera provide a colorful visual record of diners from all over the country.
Nearly 450 examples are included here, along with a history of the diner and related information about postcards and matchcovers of the era. Enjoy a nostalgic, state-by-state tour of architecturally unique, vintage American diners.