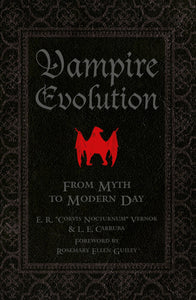 Vampire Evolution
Vampires are beings of myth: folkloric creatures who live off the blood of the living and have been recorded in nearly every culture around the world since the beginning of man.
This work traces the evolution of the vampire, from its roots in ancient mythology to obscure folk tales and legends, leading up to when these foul beings transformed into the suave Byronic heroes that continue to influence the world's view of the vampire today. It also examines key individuals in history involved in reshaping our concept of the creature.
Popular culture is explored, along with the development of the vampire into the protagonist in plays and poems and novels. Sixty-one frightening images bring the topic right to your front door. Will you invite the visitor in?
Hardcover, 6" x 9", color, 144 pages.