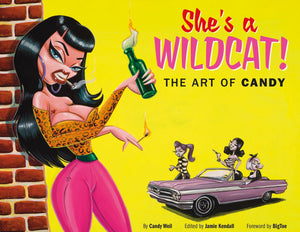 She's a Wildcat! - The Art of Candy
Born of color and light in Long Beach, a protectorate of legendary lowbrow icon The Pizz, Candy has struck a fever in the landscape of pop surrealism.
Her damsels of the west, exotic tiki vixens, sultry hot-rod gals, and weirdo monsters have graced galleries, books, and magazines as far out as France, Italy, Germany, Japan, and Australia. Now, for the first time, Candy Weil's wild and wondrous works are collected and served up as the sexy, funny cartoon cocktail your eyes so desperately need.
Over 200 color and black-and-white pieces, as well as sketches from various stages of her creative process, showcase Candy's unforgettable, eye-popping style and her growing fame in the lowbrow scene. Featuring a foreword by BigToe, this collection is a must-have for all lowbrow, vintage, and pop surrealism art lovers.
Hardcover, 11" x 8½", color, 112 pages.