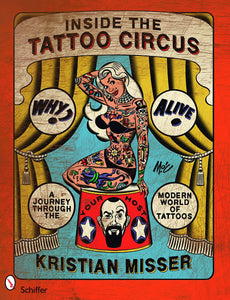 Inside the Tattoo Circus
This expansive book presents 97 international tattoo artists and their best work in words and images. Organized in 19 different ""acts,"" it presents firsthand knowledge of today's tattoo world. Over 560 color images depict a wide range of tattoo motifs, including tribal themes, women, botanicals, animals, portraits, horror, organic, Japanese, religion and mythology, and futurism. In addition, current tattoo-related art, shops, conventions, magazines, and the internet are discussed.
The international contributors represent the U.S., Canada, Europe, Japan, and Australia. Some of the greatest names in the tattoo world share their thoughts and art, Jørgensen, Aitchison, Tyrrell, Hemingson, Bond, Reime, Kyle, Hellenbrand, Brogan, Harrison, Wortman, Wheeler, Lofquist, De Pase, Woods, Herman, Henk, Atkinson, Bell, Admiraal, Divari, Rieth, Vedova, Thidemann, Lindfjeld, Kelley, Dollface, Megu, and Ripley.
Softcover, 8½" x 11", color & white, 208 pages.