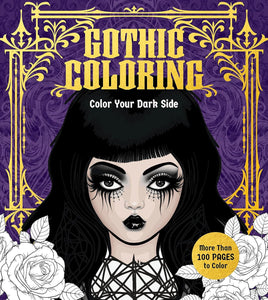 Gothic Coloring
Whether you're fascinated by the macabre or want to dive into the mystery and horror of the gothic aesthetic, start with this spooky coloring book. From gothic architecture to florals and fashion, discover the brooding nature of gothic culture with these delightfully eerie images.
Features:
 Over 120 haunting coloring pages featuring intricate gothic designs
 Beautiful line-drawn art that is ideal for colored pencil, marker, or gel pen
 An intricate meditative pattern to color on the back of each page
Put on your black clothes, black nail polish, and dark makeup and begin your gothic coloring journey today!