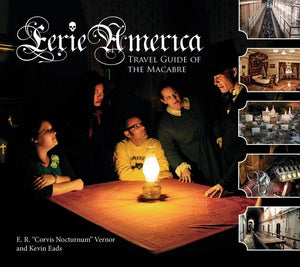 Eerie America: Travel Guide of the Macabre
America is the land of the beautiful, but it is also a land of mystery and many haunted and bizarre places.

With 150 images, addresses, and directions, go state-by-state to tour the macabre side of the united states. Journey to haunted old battleships, abandoned prisons, creepy lunatic asylums, the Amityville horror house, the Winchester house, museums such as Edgar Allan Poe's home, New Orleans voodoo museum, the Lizzie Borden bed & breakfast, and much more!

In addition to suggesting places to visit, where to stay, and places to eat, chapters on each state have a breakdown of how best to experience the curious and bizarre – sometimes just a building and other times a whole town. Come on this unusual but richly satisfying tour. You won't be disappointed.

9"x8", 192 pages, softcover