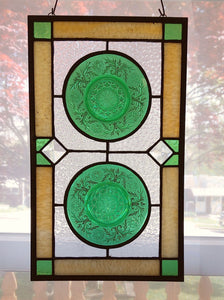 Double Plate Depression Glass Panel
There is a lot of vintage depression glass (and other decorative glass) that is not considered highly collectible. It is still pretty, though, and worth doing something with.

This panel incorporates two small green plates, along with two accent bevels and complementary green and beige glass.
The piece is approximately 8½" x 14". It is framed in zinc channel, finished in a black patina (varies from grey to black) and polished with carnauba wax. There are two hanging loops on the top, but we can move them to the side if desired - just let us know when placing the order.

A note on shipping: All of our larger pieces are packed EXTREMELY well. We use multiple layers of bubblewrap, cardboard, styrofoam peanuts, and roomy boxes to ensure you receive each piece in perfect condition. Because of this extra protection, the shipping cost you see is based on dimensional weight (the box size) rather than the actual weight. We are NOT charging any additional fees for the packing material or the time involved. In short, while the shipping for glass may be higher than expected, we are not "padding" the prices - you pay the price that UPS/USPS charges us.