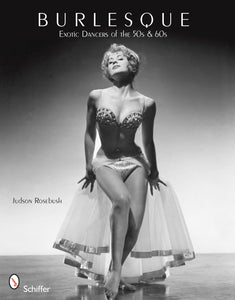 Burlesque
Presented here are 125 burlesque queens and belly dancing stars from the 1950s and 1960s portrayed in 8" x 10" glossy "booking photos." These attention-grabbing and sometimes startling photos are the publicity shots that dancers handed out to booking agents, managers, theaters, press, and fans.
The stars include Crystal Blue, Toni Rose "The Glow Girl," Bella Dona, Marlo Brando, Sunny Day "The Butterfly Goddess," Dixie Evans "The Marilyn Monroe of Burlesque," Lala Jazir, and Dusty Summers "Las Vegas' Only Nude Magician."
Learn a brief history of Burlesque and its performers in the transition from 1950s burlesque with live band, comic, and stripper scene to the 1960s go-go night clubs with scantily dressed dancers on pedestals and in cages.

Softcover, 8½" x 11", black & white, 200 pages.