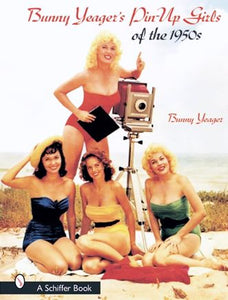 Bunny Yeager's Pin-Up Girls of the 1950s
Before Bunny Yeager was old enough to be one, she fantasized about becoming a Pin-Up girl. She realized her dream and much more. After building a successful modeling career, she moved behind the camera, in the 1950s, to become one of the most renowned glamour photographers in the world. Her work has appeared in magazines, calendars, posters, and several books.
This book is a celebration of all the emancipated young women with beautiful faces and figures who posed for her in the 1950s, just as she embarked on her career as a professional photographer. There are nearly 200 photographs, all reproduced as Bunny took them, including full color and beautiful black and white works.
This book will delight aficionados of the Pin-Up, historians of photography, and admirers of the human form.

Softcover, 8½" x 11", color, 128 pages.