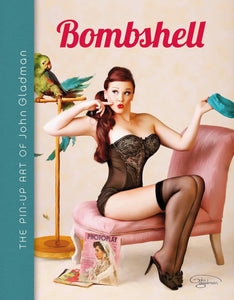 Bombshell
Indulge yourself with this stunning collection of pin-ups!
The art of pin-up glorifies the female form, and John Gladman celebrates beautiful girls from all walks of life. He has a refreshing, timeless style, bringing back the art of the tease at a time when innocence has been lost. Glamour and art meet photography to create john's recognizable and unique look.
His imagery is tasteful yet sexy, stirring up sensuality and allure. He has revered and admired the female form throughout his life span, learning posing from the great artists of the past, paying attention to every detail during posing from the hand placement, the arch of the back, to the expressions and nuances, creating an art piece that appears as natural happenstance.
John has a modern flair mixed with vintage themes honoring the classic era of the mid-twentieth century.
Hardcover, 8½" x 11", color, 144 pages.