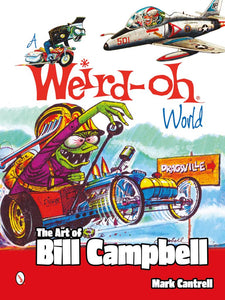 A Weird-Oh World: The Art of Bill Campbell
You may know Bill Campbell's name, but chances are, you know his handiwork better, especially the Weird-Ohs models that burst on the pop culture scene in the 1960s.
Enjoy looking back over the career of this colorful artist in over 700 brilliant photos and witty prose. From his early days painting model box tops for the Hawk Model Company to his invention of the iconic Weird-Ohs model kits, Bill has continued to create some of the most unique artwork the world has seen. Also discover his work for national ad campaigns, editorial cartoons, his box art, fine art, and the Weird-Ohs that never were.
Now much of that work has been gathered into one volume that traces the entire arc of Bill's career, including his connection to the Manhattan Project, an initiative that may well have saved his life. Much of the art is presented here for the very first time.