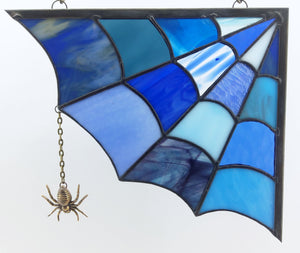 Stained Glass Right Corner Spiderweb - Mixed Blue Glass
In the corner of a window or doorframe, this is a spiderweb you won't mind having in your home.

This is the first one we've done in other than purple, red, or clear. There are sixteen pieces of varying textures, colors, and types of blue. Hanging daintily from a bit of brass chain on one side is a friendly metal spider.

While the same pattern is used, every web is of course different - even those cut from the same types of glass will never look quite the same. They are finished in a black patina (varies from grey to black) and polished with carnauba wax. The straight edges are zinc channel to provide strength and prevent bending.
The piece is approximately 8¾" wide and 7¼" tall. We can provide a couple of heavy-duty suction cups it if is not going to be hung in direct sunlight, or alternatively add 8" of black chain to each loop so it can be hung directly from the frame - just let us know when placing the order if you'd like one of these options (there's no extra charge).